World War II Collection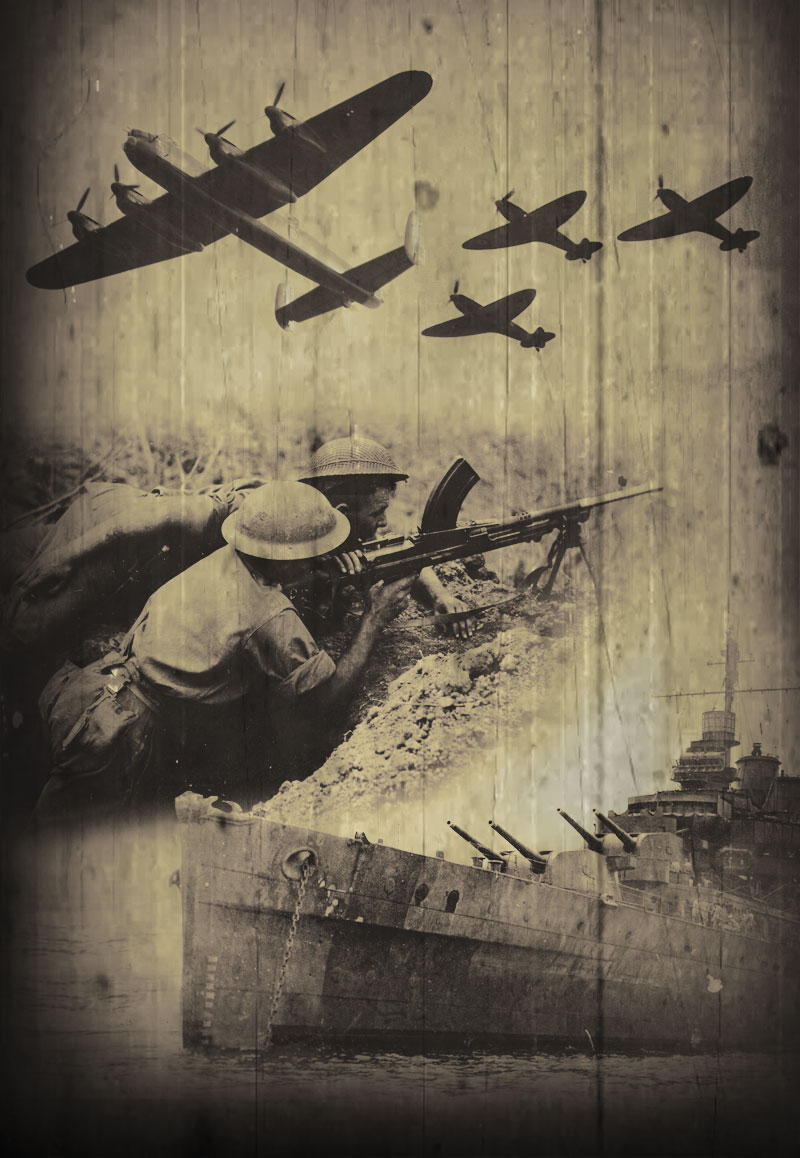 WWII 1939-45
Remember the war years and share with pride the memory of all who served. Stunning designs that convey history and honour.
WWII Bar Runner
Order now

- AUSTRALIA'S WAR 1942 -

This landmark series remembers 1942, the year Australia's focus turned from the war in the northern hemisphere to the immediate threat posed to Australia by advancing Japanese forces in the Asia-Pacific. An insightful collection to tell Australia's story in 1942. Historic details included with each piece.
Australia Under Attack
Japan's relentless air and sea campaign against Australian communities and shipping began with a massive air raid against Darwin on 19 February 1942. Attacks on mainland Australia continued till late 1943.
Attack on Australia Limited Edition Medallion
Order now
Australia Under Attack
Badge

Australia Under Attack
Penny
Fall of Singapore
The fall of Britain's "Gibraltar of Asia" on 15 February 1942 had a profound effect on Australia. Some 15,000 Australians were captured, and the loss of Britain's air and sea bases opened the door to Australia for the advancing Japanese.
Fall of Singapore Limited Edition Medallion
Order now
Fall of Singapore
Badge

Fall of Singapore
Penny
Prisoners of War
More than 30,000 Australians were taken prisoner during WW2. Some 22,000 were captured in 1942 by the Japanese and while all prisoners endured hardship, the treatment of POWs in Japanese camps and during construction of the Thai Burma Railway remains one of the darkest periods in Australian military history.
Prisoners of War Limited Edition Medallion
Order now
Prisoners of War
Badge

Prisoners of War
Penny
Thai-Burma Railway
Badge

Thai-Burma Railway
Penny
Bomber Command
Some 10,000 Royal Australian Air Force aircrew served over Europe with RAF Bomber Command between 1939-1945. Of all Australians lost in the Second World War more than one in ten served with Bomber Command.
Bomber Command Limited Edition Medallion
Order now
Bomber Command
Badge

Bomber Command
Penny
Battle of El Alamein
Australian ground and air forces played an important role in the victory at El Alamein in November 1942. The defeat of the "Desert Fox" Field Marshal Erwin Rommel was the first major allied success of the war.
Battle of El Alamein Limited Edition Medallion
Order now
Battle of El Alamein
Badge

Battle of El Alamein
Penny
Kokoda and Port Moresby
Australia's victory against Japan at Kokoda in 1942 was one of the most significant battles in the Asia-Pacific War. It was the final blow to Japan's ambitions to capture Port Moresby and denied Japan a foothold on Australia's doorstep.
Kokoda Limited Edition Medallion
Order now
Kokoda: In Defence of Port Moresby
Badge

Kokoda: In Defence of Port Moresby
Penny
Battle of Milne Bay
In late 1942 at Milne Bay in New Guinea, R.A.A.F. P-40 Kittyhawk fighter bombers, Australian infantry and American Engineers beat back more than 2,500 Imperial Japanese Navy marines to record the Allies' first ever victory against a Japanese invasion force.
Battle of Milne Bay Limited Edition Medallion
Order now
Battle of Milne Bay
Badge

Battle of Milne Bay
Penny
Battle on the Seas
The first year of the War in the Pacific was costly for the Royal Australian Navy. Four of five major R.A.N. ships sunk in 1942 were lost to the Pacific War, including HMAS Canberra, Australia's biggest warship lost in combat.
Battle at Sea Limited Edition Medallion
Order now
Battle on the Seas
Badge

Battle on the Seas
Penny